A brief history of our house.
Most of the buildings in the main street and lower part of Champagny-Sous-Uxelles were constructed around the latter part of the eighteenth century as the commune began to grow and prosper. In an old photograph of the church, it is just possible to see how our house formed the centre of a terrace of five or six dwellings with their outbuildings (or dependencies). There was probably a communal bake-house somewhere in the row since the remaining one behind the properties was a later addition.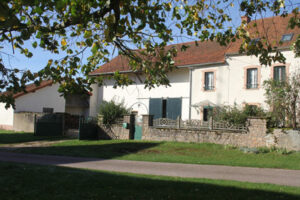 Unlike its neighbours, our building was originally constructed on a cellar (or cave) hewn out of the rock and with a vaulted roof. We know from former resident of the village, that her aunt and uncle lived in a single room on the ground floor. She recalled that, during the 1930's her uncle, who bred and traded horses, demolished all the buildings to the south (left side) of the main house and built the large barn we have today.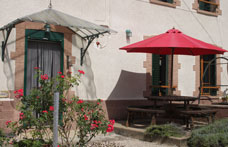 The same project continued through the war years to include the modernisation of the house, including a kitchen, new doors, windows and an internal staircase for access to the upper floors. We assume that the work was not completed until 1950.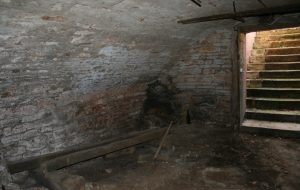 Our priority was to convert the former stables into a apartment for Barbara's disabled mother as soon as possible. While we were dealing with the permissions, we were able to start in the main house with some decorating and alterations to the main bedroom with its adjoining bathroom. We had already lined up help from friends and neighbours so work began in the summer of 2007. We were able to complete the work by Easter of 2008 which include making an access ramp from the main house kitchen through the barn.
Other projects then followed including modernising the kitchen and creating a bedroom suit on the second floor.