Although you are more likely to find vegetables just used as a garnish in French restaurants, its a different matter in the home. French families enjoy an abundance of good seasonal vegetables at home. Many vegetables are indeed home grown and we have seen how even apartment dwellers grow herbs and tubs of strawberries on their balconies.
In November our neighbour presented us with a bucket of freshly dug carrots. This happened to coincide with the delivery of my copy of Rick Stein's book 'Secret France' so I tried this recipe which he apparently found in a book featuring the artist Monet's favourite recipes from his home at Giverny. A good accompaniment or dish on its own.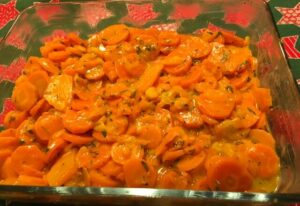 INGREDIENTS
1 kg large carrots slices into rounds. (use a 4mm slicing disks in a processor)
30g butter
30g flour
Juice of 1 lemon
2 tsp caster sugar (optional – carrots are OK without added sugar)

Small handful chopped parsley and tarragon (The dried stuff is good but use less)
Salt and black pepper to taste.
METHOD
Put the carrots in a pan of water and season with a teaspoon of salt. Cook the carrots for about 10 minutes until tender but not soft. Drain and reserve some of the cooking water.
Melt the butter in a large pan and whisk in the flour. Gradually add about 250ml of the cooking liquid, whisking all the time to avoid lumps. Add the herbs and black pepper, bring to the boil to thicken. Add the lemon juice and sugar, put the carrots back in the pan and steam gently adding more cooking water to loosen. You can simmer gently for a further 20 to 30 minutes but don't let them break up, then serve. Alternatively you can put the in an oven proof dish and cook for about 30 minuets. This works well if you want to cook ahead, we find that they are actually better refrigerated and used next day or as required.
A glut of vegetables that all come at the same time can be frozen. In our case its usually green beans (haricot vert). While there is nothing as good as simply cooked beans straight from the garden, we blench them in boiling water, chill in iced water, dry and freeze on open trays before bagging them for the winter months.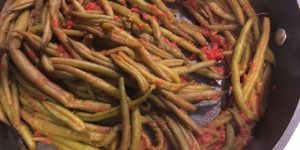 INGREDIENTS
A bag of frozen green beans, sliced runner beans, French beans or the Spanish flat beans.
Garlic, Butter, salt
Chopped tomatoes.
Cooks note; Dare I say that carnivores can always add some fried bacon or ham lardons to the beans!
METHOD
Place the frozen beans in a large pan with a lid and very gently heat to defrost. Add crushed garlic salt and a little butter. Continue until  the beans are completely defrosted and starting to caramelise a little.
Alternatively continue as above (without caramelising them) but add some chopped tomatoes (tinned ones are good too) and gently steam the mixture until it becomes dryish to serve. Or serve chilled as a salad.
Obviously this also works with shop bought frozen beans.
Thinking about frozen food, it's always good to keep a bag of frozen peas and some frozen chopped spinach cubes in the deep freeze. Either use them as vegetable accompaniment or to add to other dishes. And a bag or frozen mixed vegetables can be useful too see below.
Someone once questioned why we were using animals to convert vegetable matter into our protein so that we could eat it! Could this not be done more efficiently in a factory? Perish the thought, there are too many 'food processing factories' anyway and it would be sad to see the demise of cows and sheep grazing in the pastures.
I often use this to offer a tasty dish for visiting vegetarians and to be honest for ourselves!
A Warning though!
Carnivores have been known to devour this food.
I remember realising there would be a fair number of vegetarians at a wedding buffet, we asked the caterers to provide for them. The the resulting dishes looked, and tasted, so good that they were devoured by all the guests before the poor vegetarians could get a look in!
INGREDIENTS
500g Bag of frozen mixed vegetables.
1 medium onion chopped.
2 Cloves of garlic
25g Flour
25g Butter (olive or vegetable oil if preferred).
Any kind of curry powder or paste you fancy.
Herbs  such as coriander and pepper and salt to taste.
500ml Vegetable stock.
Cooks note; Try using nut or non-wheat flours. Its only there as a thickening.
METHOD
Gently fry the chopped onion in the butter or oil. Add the flour, garlic and spices loosening them with vegetable stock to avoid lumps.
Add the frozen vegetables to the pan and top up with the remaining stock or water. Simmer gently until tender. Adjust the seasoning and spices. Serve with rice or couscous.
Of course you can make this ahead and it is even improved with keeping in the fridge for a day. But if you freeze it you may loose flavour from the spices.