I like to be controversial so it should be no surprise to start a section on French dishes with a Tajine, but its popular because of the strong connections with North Africa.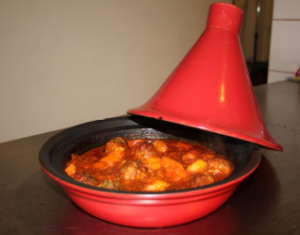 Often served with couscous, this dish takes its name from the traditional cooking vessel but don't worry if you haven't got one. Use a heavy-bottomed ceramic or cast iron casserole. Less than 200 kcal per portion for the chicken version – more with the couscus.

INGREDIENTS
2 medium onions (90kcal)
4 tbsp. spoons olive oil (270kcal)
6 chicken pieces (800kcal)
1 tsp. ground turmeric
1 tsp. ground cumin
1 tsp. ground coriander
1 tsp salt
1 tsp ground cinnamon or 2-3 sticks
1 bunch freshly chopped coriander or other fresh herbs and 2 bay leaves
400g tin chopped tomatoes and some water as required.
Moroccan tajines often include some preserved lemons and dried fruits, dates or apricots. You can try adding these for and authentic flavour.
METHOD
Mix turmeric, cumin, ground coriander and salt in a small bowl with 2 tablespoons olive oil. Rub this mixture into the chicken pieces and brown them in a pan with half of the olive oil and set aside. Peel and slice onions and gently fry in a pan over medium heat with the rest of the olive oil and the residue of the spices, until they have softened. Transfer cooked onions into the bottom of the tagine pot, and then layer the chicken pieces on top.
Deglaze the pan with the tined tomatoes and a little water and pour over the chicken. Place cinnamon sticks on top. Crush the bay leaves and sprinkle them over the chicken. Add chopped coriander. Cover and put into preheated oven for 60 minutes at 150° to 170°.
SUGGESTIONS:-  You can also try the same recipe with the KUFTA (spicy meat balls) as illustrated in the picture on the left. Moroccan's often break eggs over the top of the dish to cook just before serving especially with the KUFTA version.
Traditionally this dish uses meat from the famous white Charolais cattle, which, it is said, were originally introduced to the area by Margaret the wife Philip ('the Bold') first Duke of Burgundy in the 14th century.
This is not a recipe to hurry: let it cook slowly on a low setting. A boiled Bourguignon is a spoiled Bourguignon. 

I have often made versions of this dish for visiting friends and the carnivorous members of our family. It's easy to prepare ahead and can be served with Dauphinoise Potatoes or just some good fresh bread.
The essential of all French casseroles involves cooking slowly with wine, herbs and bacon. Traditionally the cast iron pot 'pot-au-feu' was placed in the local bread oven in the morning after the bread was finished where it remained until required for midday or the evening meal.
INGREDIENTS (serves 6 to 8)

1 kg chuck or braising beef (2000kcal)
1 bottle Red Burgundy (635kcal)
3 cloves garlic (12kcal)
100 grams or 20 button mushrooms (20kcal)
100 g or 20 shallots (40kcal)
1 Large onion (60kcal)
80g of fatty bacon or lardons (95kcl)
10 cl of Oil or 20 g butter (90kcal)
750ml of stock (15kcal)
2 bay leaves,
1 large sprig of thyme
Pepper and Salt
Seasoned flour (25kcal)
We are looking at 400kcal to 500kcal per serving based on the rough guide figures noted for this quantity.
METHOD
Marinate the meat overnight in the wine and herbs then use the marinade as the cooking liquor.
Toss 1kg of chuck or shin of beef, cut into large pieces, in seasoned flour. Let it colour in a little oil in a heavy casserole. Brown the meat generously.
Remove and add 20 button onions. Brown them lightly then add 20 button mushrooms. When golden, remove and set aside.
Add a large onion, peeled and chopped, to the pan with 80g of fatty bacon cut into short, thick strips.
When they are soft and pale gold, return the beef to the pan with 3 lightly crushed cloves of garlic, 2 bay leaves, 1 large sprig of thyme, the marinade and 200ml of stock. Season and simmer for a good 90 minutes, until the meat is tender.
Return the onions and mushrooms and continue cooking for 30 minutes. Alternatively you can prepare everything well in advance and add them as you re-heat before serving.
Tips:-
Cook the mushrooms and tiny onions separately and add them late during the cooking process so they are not overdone.
It's possible to cook this on a very slow gas ring or hob but for best results bake it in the oven. A low heat (140°C) for 2 hours does nicely. It often tastes better when allowed to mellow overnight.
What started in the region of Languedoc as a humble peasant dish of dried beans cooked with various sausages and preserved meats has turned into an all-out culture war with at the least three towns claiming to be the originators of the One True Cassoulet. So who am I, and English man, to make any comment other than to say they always taste pretty good!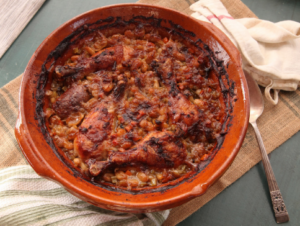 As I see it the basic rules are; Firstly use dry white beans, lingots blancs, cannellini. Canned beans will neither absorb the flavours or the liquid. Secondly a very good stock is essential and the gelatine from the chicken or duck bones is important. Lastly; as a fan of confi-duck, I would happily subscribe to that ideology.

INGREDIENTS
4 Toulouse sausages (or good meaty butcher's sausages). 1000kcal
4 Chicken thighs or legs (skin and any obvious fat removed). 400kcal
100g Bacon, lardons or pork shoulder cut into cubes. 280kcal
4 Sticks of celery sliced (fennel is a good addition too). 20kcal
2 Large carrots cut into chunks. 62kcal
1 Large onion chopped. 50kcal
4 Cloves of chopped garlic. 8kcal
300g Lingots blancs cannellini or butter beans. 320kcal
75ml Red wine. 70kcal
700ml chicken stock 220kcal
1 Tablespoon olive oil. 70kcal
1 Bay leaf.
4 Sprigs thyme (fresh or dried if necessary).
1 Sprig rosemary.
Salt and ground black pepper to taste.
Total 2500kcal so it would put a portion at at least 625kcal. less if you reduce the sausage content.
METHOD
Soak the beans overnight in plenty of lightly salted water. A little salt softens the bean skins.
Season the chicken and brown it and the sausages in a little olive oil and set aside. In the same pan gently fry the onions and lardons together. Deglaze with the wine and return the sausages and chicken. Add the vegetables, herbs and garlic. You can carry out the above in a large cast iron pan and continue to add the remaining ingredients to it. If you have a proper terracotta cassoulet, transfer everything to it at this stage.
Add the stock, drain and rinse the beans and add them to the pot, check the seasoning and bake uncovered in the centre of a pre-heated oven at 180°C for 2 hours. After about 45 minutes check to see if the crust is forming on the surface and break the surface to check the mixture underneath. Add a little water if necessary and continue to monitor the progress for the rest of the cooking period. This is of course the kind of food that can be cooked well in advanced and reheated when required. It needs no more than a seasonal salad to accompany it.
A true cassoulet is cooked in an oven in a wide brimmed open pot (from which it takes its name). This allows the formation of a good crust as illustrated while the remainder of the dish is loose and creamy without being soup. It is important to use a good stock which is rich in gelatine as this thickens the dish and helps form the crust. Dried stock cubes or shop bought stocks can be too watery. The process of slow cooking fresh chicken (or duck) legs or thighs adds natural gelatine.
I sometimes like the few chips (or as Americans say) French fries which is strange because les frits' are a rarity in all the local French restaurants I visit.
I also like roast potatoes but after eight years of trying to make proper British roast potatoes with the varieties available in France – I have finally given up the cause.
I now succumb to 'les Gratin dauphinois' which are frequently offered as an accompaniment in local restaurants. This is a traditional regional French dish based on potatoes and crème fraîche and garlic from the historic Dauphiné region in south-east France. There are many variants of the name of the dish, including' pommes de terre dauphinoise and 'gratin de pommes à la dauphinoise'. It is often on the menu just as 'Gratin'.
INGREDIENTS
15g Butter
1kg waxy potatoes peeled and finely sliced
2 or 3 cloves of crushed garlic
1 finely slices onion (optional – and I have never found a trace of them in any local offering)
80g grated Gruyère cheese (cheese is optional but you could use a little grated parmesan)
500ml.double cream. (You may need a little more to cover the potatoes – many recipes add milk)
Salt and pepper to taste (Add some grated nutmeg too)
METHOD
Lightly butter a shallow ovenproof dish and arrange a single layer of potato slices in the bottom.
Top this first layer with garlic, onions (if used) and some of the grated cheese and season to your taste.
Repeat the layers finishing up with a top layer of potatoes topped with cheese.
Pour the cream over the top of the potatoes and cook in a pre-heated oven 180° for 1 ½ hours or until the potatoes are cooked through.
This can be served immediately but in most French households and restaurants they are prepared ahead and warmed before serving with the main course.